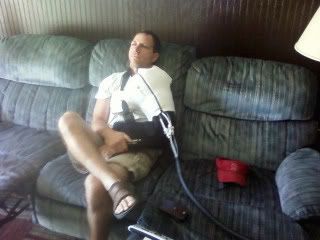 J in his sling and the water contraption that ices his shoulder while cheering for (and swearing at) his football team
Two weeks ago - as I was enjoying the wonders of Arizona and having a great time with my sister - J was at home having surgery on his shoulder. He had been having problems with it for months and finally decided to do something about it.
After two MRIs (the first one was screwed up) they found that there was more damage than anticipated. Instead of just needing to go in and grind down the ends of the bone (ouch!) they also needed to repair a torn bicep and clean out a cyst that had formed. Yikes!
So he went in for surgery and 2 1/2 hours later he was as good as new. Or he will be once he's done with physical therapy and can get out of his sling. We're still not sure how long he will be out of work, but I guess I'm glad he got this done now so he will be fully healed once it's time to be lugging our little one around.
For right now we are a pretty sorry pair - him in a sling trying to do things one handed and me a bloated mess who gets pretty uncomfortable in the evenings. Needless to say there will not be many nights out for the foreseeable future.