Disclaimer - this is going to be looooong!
First off - my sister rocks! I just wanted to get that out there. We have always been super close ever since we were kids. We lived together after I graduated college and she graduated med school, we both picked up and moved to SC at the same time (her to start a job and me to get away from a broken engagement), she was my maid of honor and I would have been hers if her wedding hadn't been called off, and she is the one person I know will be there for me no matter what (besides J of course). We are best friends and I can't imagine my life without her in it.
That being said, she outdid even herself this past weekend. She planned the most fantastic long weekend trip for me to visit her out in Arizona while she is there doing her locums gig. I got there Thursday evening around 9:30 (12:30 to me) and one of her fellow doctors picked me up at the airport since she was working the 7P - 7A shift. She had left me some snacks and some instructions letting me know she'd be home around 7:30 the next morning. I took a shower to wash the travel yuck off of me, took Kirby (her portly beagle) for a quick walk, and hopped into bed.
Friday morning Nic got home around 7:30 - which I realized when Kirby launched herself out of the bed (she was under my covers) and ran to the door. We got up, ate breakfast, got ready and headed north towards the Grand Canyon. We stopped several times along the way to take some pictures.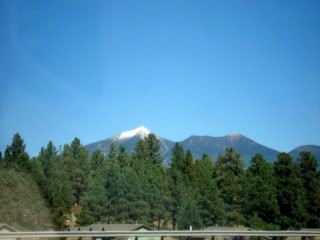 Humphreys Peak - highest point in AZ at 12,637 feet elevation
Flinstones Bedrock City in Williams, AZ - we had to stop and take pictures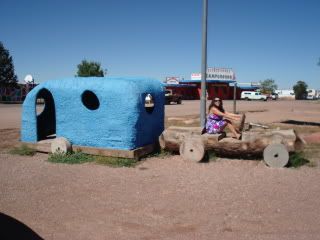 Doing my part to prevent forest fires
We got to the little airport to check in for the helicopter ride, but we were kind of early so after check in (including getting weighed!) we drove up to the park to take a look at the canyon from ground level. After finally finding a parking spot we walked over to the viewing area and I got my first look at one of the seven natural wonders of the world. In a word - breathtaking. We took a bunch of pictures before we had to hop in the car to hightail it back to the airport.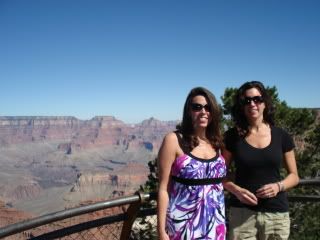 Nic and me at the scenic viewing area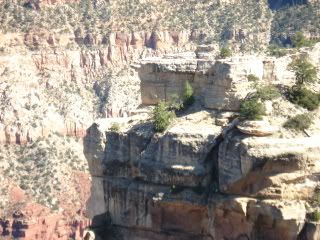 There was a guy sitting out on one of those ledges - we thought he was nuts
We got to the airport and waited for our names to be called while watching all the foreigners mill around. Our Johnny Knoxville lookalike pilot called our names and we headed out to the copter. After some instructions he put us in our seats and Nic and I had the best ones in the whole thing. I was in the front next to the door and she was next to me. I was glad we didn't get stuck in the middle seats in the back. They do the seating based on weight I guess to balance it out. So we took off and headed towards the canyon. Our pilot chatted pointing stuff out and giving us a nice little history lesson. After about 5 minutes we reached the edge of the canyon. All I can say is "Wow!". Gorgeous.
All smiles before take-off
After we got done with the ride we bought some souvenirs and headed back out on the road. There were a couple stops for pictures and then we headed back south to Scottsdale with a brief stop at BW3 in Flagstaff for some grub and trivia (we totally kicked ass!). We got home around 9:00 PM and hung out til bedtime.
I was going to put the whole trip in one post, but this is already getting a bit lengthy. I'll continue tomorrow with our trip to Sedona, the hot air balloon ride, and the Cardinals game.