That a week ago he was still in my belly and I looked like this: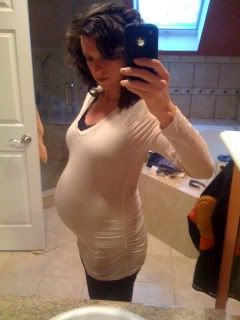 This was my last bump pic taken on 3/23 - 3 days before Andrew's unexpected arrival.
Now, 6 days after his arrival I look like this: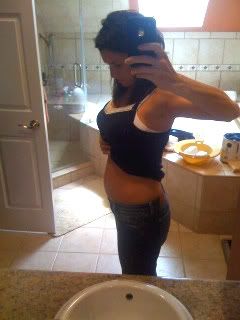 I weighed myself this morning and am already down to just 12 lbs up from my pre-pregnancy weight. Part of it might be due to being so tired that I forget to eat (which I know is not good - I need to eat healthy for him). Part of it might be that my muscles are going away since I haven't worked out in a week. Of course 7 1/2 lbs of the weight was him, plus the placenta, fluids, blood, and whatever else. Just seems crazy that 20 lbs is gone after a week.
I will say that it IS nice to be fitting into normal clothes. I will be packing up those maternity clothes in no time!
And - because he is so freaking cute - here are some more pictures of Andrew...
Laying on the quilt that my aunt Lynne made for him
Lounging after a feeding
Sleeping in daddy's lap. His fuzzy head cracks me up :)
Andrew and daddy on the floor in the nursery
Hanging out with grandma. My mom was here for 3 days to help out after we got home from the hospital. Even though initially I said I wanted it to be just me and J for a few days I am SO grateful that she was here!
I'll update tomorrow with the whole name drama saga. I'm still pretty pissed about it so I don't want to think about it right now.